Electric Drum Heaters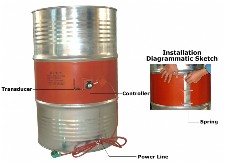 Drum heaters provide simple, effective and reliable way to heat contents of metal drums.
Adjustable thermostat for a control range of 30° to 150° C
Use drum heaters to: preheat process ingredients, melt material, control viscosity, protect against freezing, speed flow of liquids, reduce residue, and promote dissolution
Drum heaters are made of flexible, tough fibreglass reinforced silicon rubber which conforms to the drum
Easy to attach
Easy to keep clean
Convenient to store
Sized to fit 18-200 Litre metal drums
Produces 1500 or 2000 watts
Cord and plug for 220 volt power
Two or more drum heaters may be used on the same drum for faster warming.
Not for "flammables." Do not use in explosion hazard areas. For metal drums only. For best results attach near the lower end of the upright drum. Attach to drum only in areas filled with contents. Do not attach heater above the liquid level.