Hot Melt Machines for the Glass Industry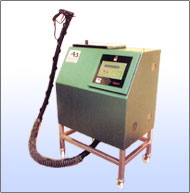 P.E. Heated Hoses range of Hot Melt Extruders are designed to cater for all levels of sealed unit production.
Over ten years of development with on-going projects, enable the latest technology available to be introduced into the machines.
A unique keypad control system allows the end user total confidence in sealing units, which includes a built-in timer, automatic shut down into standby mode and touch sensitive speed control with digital readout.
The machine can be programmed to automatically set to whichever sealant is required with factory settings for accurate dispensing.
Hot Melt Machine Specifcations
Model
THERMAJET
HM 1500
HM 2000
HM 3000
HM 5000
Average Production
300 - 500 Units per week
500 - 700 Units per week
1000
Units per week
2000
Units per week
2000 + Units per week
Hopper Capacity
15kg
25kg
45kg
50kg
160kg
Variable output
Up to 1000 grammes
per minute
Up to 1500 grammes per minute
Up to 2000 grammes per minute
Up to 3500 grammes per minute
Up to 5000 grammes per minute
Timer
option
option
yes
yes
yes
Supply
Single phase
Single phase
Single phase
Single phase /
3 phase
Single phase /
3 phase
Low temperature cut out
yes
yes
yes
yes
yes
Digital displays
2 zone
3 zone
5 zone
5 zone
6 zone
Power rating
7 amp / 1.5kw
7 amp / 1.5kw
10 amp / 2kw
16 amp / 3kw
20 amp / 4kw
12 months parts & labour
yes
yes
yes
yes
yes

Dimensions (mm)
Height
Width
Depth



800
420
420


1000
500
600


1300
840
560


1300
1130
540


1580
1300
500