MCP-4P
Glue System Pattern Control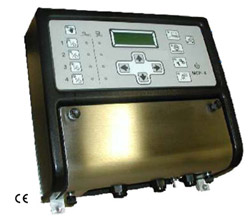 A programmable microprocessor control for packaging.
The MCP-4Pis a low-cost, full-featured adhesive system pattern control ideal for the packaging industry. The MCP-4Pis suited for packaging applications including palletizing, case & carton sealing and erection, graphic arts, or any variable speed requirements.
MCP-4P:
Mounts vertically
Up to 4 scanners
Field-wireable and easy to install
Simple power supply from PLC or electrical cabinet
24V without Turck (low-speed driver)
120V/ 220V with Turck (high-speed driver)
Timer or Encoder functions
Din-Rail mountable inside electrical cabinet
4-Channel outputs capable of multiple glue patterns
Optional integral flow control
115/230 VAC allows for second programmable
0-10 Volt EPC output for speed tracking
Multi valve, complex glue patterning
CE Compliant
Available in two versions
Version 074xx034

Input voltage 24VDC
Dimensions: 106mm deep x 282
mmwide x 245mmhigh
Remote 120 VAC power supply optional
Field-wireable connections
ExternalEPC
Will operate 12/24 VDC pneumatic valves, 400E series, and 2050 valves (used for lowspeed applications, not capable of short patterns at high machine speeds)

Version 074xx036

Input voltage 115/230 VAC
Dimensions: 168mm deep x 285 mm wide x 245mm high (with power supply)
Turck connectors
Pre-configured to act as a valve drive
External EPC (Electronic Pressure Control)

Version MCP-4P (074xx034)
Bottom View, 24VDC
MCP-4P Added Features:
4-Channel operation with up to 8 programmable patterns per channel
raphical LCD display
Front panel indicators monitor system function
Password protection for key system parameters
A TOTAL PACKAGE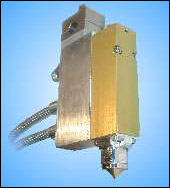 P.E. offers a complete selection of hot-melt components and support equipment:
RTD hot-melt hoses
Manual and automatic dispensing valves
Nozzle and applicator styles
Mounting bracket packages
Solid-state pattern control systems
In-line filters
Replacement parts for competitive systems
High-performance hot-melt adhesives
Cost-effective rebuild/exchange programs
The MCP-4C and MCP-4P controls can be used with an extensive selection of PE Heated Hoses cold glue or hot melt adhesive dispensing valves including high-speed, non-contact spot gluing, fine-line gluing, and ribbon-pattern gluing. Suited for applications such as folding carton production, envelope manufacturing, paper-folders, book and magazine production, bag-making, corrugated box-making, and other high-speed converting requirements.
Typical MCP-4P System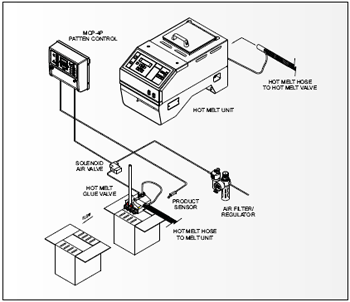 Download PDF for MCP-4P Pattern Controller