Temperature Controller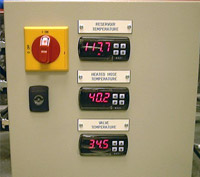 The Temperature Controller comes pre-wired and consists of a LED Digital Process Controller installed in a high quality polystyrene box, complete with fuses and 20amp power relay (13 amp maximum load).
It has a separate compartment for the clearly marked terminal block. The unit is pre-programmed to suit your equipment.
We also offer a multi channel version with the same specification. Please call with your requirements.