Glass Washing Machines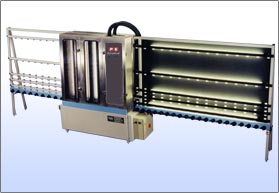 The Six Brush is a three stage veritcal glass washing machine designed to constantly cope with the most rigorous of glass washing schedules.
STAGE 1
Completely isolated prewash containing it's own hot water tank and set of rotary brushes for removal of particulates prior to entering the main wash.

STAGE 2
Contains two pairs of rotary brushes revolving in opposite directions washing and polishing the glass with hot water.
STAGE 3
Final rinse with hot water of a very high standard, passing through a fine filter prior to glass saturation.
6 Brush Glass Washing Machine Specification
Three stage wash: 2 brush prewash, 4 brush main wash, rinse.
Stainless steel throughout: Chasis, covers, watertanks, bearings, shafts, pumps, fasteners, etc...
Three separate water tanks containing 250 litres for dilution.
Running speed variable 0-10 metres/min, brush speed proportional.
Air blowers: Choice of hot or cold, switch operated.
Open plan, easy maintenance design.
Inspection screens allow viewing all three wash stages.
Suitable for all types of specialist coated glass.
Minimum glass size 190mm x 100mm.
Max glass thickness 10mm.
Glass loading height 760mm.
Conveyorised outfeed rack with stop/overide and inspection lights.
Low water safety switches with visual warning.
Available left to right or right to left.
Open top design.
Optional conveyorised infeed extra.
6 Brush Glass Washing Machine Models
Models Available
1.3m
Six Brush
1.5m
Six Brush
1.8m
Six Brush
2.1m
Six Brush
Overall length
6080
6080
6080
7130
Overall depth
1000
1000
1000
1000
Height
2170
2370
2670
2970
Input rack
1950
1950
1950
2400
Conveyorised outfeed
2400
2400
2400
3000
Power Consumption Hot air on
28kw
29kw
30kw
31kw
Power Consumption Hot air off
18kw
19kw
20kw
21kw